I made these garlic knots for my dear, dear improv camp friends, Jaclynn, Nonie, Andy, and Josh, while in San Diego for the San Diego Improv Festival! We all shared a tiny AirBnB studio that we barely fit in, and it was just a fantastic time.
Garlic knots are delicious little lumps of dough and garlic and cheese and happiness. Typically made with dough scraps in pizza places, they can also be made on purpose, and don't let anyone tell you otherwise
Even though I made these while on the West Coast, knee-deep in avocado toast territory, I didn't try them as avocado toast. I don't think the shape would have worked, really. It'd probably be pretty good though. 🥑?/5
Garlic Knots
(makes 16 knots, takes about 2-2.5hrs)
Dough:
• 415g Bread flour
• 1c water
• 1t salt
• 1½t active dry yeast
Seasoning:
• 4T melted butter
• 4 cloves of garlic, minced
• Your favorite Italian-style herbs and spices
• ¼c grated Romano cheese
1. The actual dough of these is fairly simple, you're just looking at flour, water, salt, and yeast, the big four. You can also pull out the cheese, herbs, and garlic, though you won't need them just yet.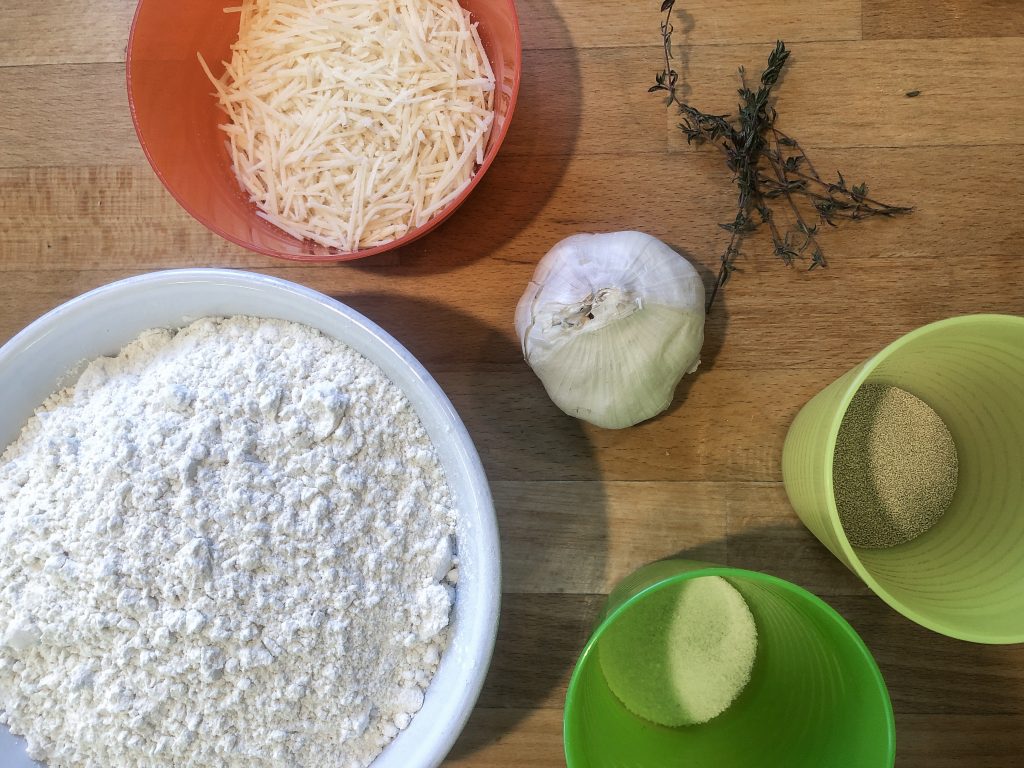 2. Mix together the yeast, salt, and all but about half a cup of the flour. Add the water and stir until a wet, sticky dough forms.
3. Dump the remaining half-cup-ish of flour onto your counter and turn the dough out. Knead until the dough is soft and smooth and not sticky.
4. Grease a bowl and drop the dough in, turning once to coat. Cover with a damp towel or plastic wrap and let rise until doubled (an hour to an hour and a half).
5. Once it's done rising, sprinkle some flour on your counter and turn the dough out. Knead gently a bit to deflate, then divide into 16 pieces. If you're crazy, like me, use a scale to get them exact. Or, just eyeball it.
6. Line a sheet pan with parchment. Roll each lump of dough into a 5″ rope, then tie it into a li'l knot. Place them on the baking sheet. Once they're all done, brush them with olive oil to prevent your towel or plastic wrap from sticking and to keep them from drying out.
7. Cover the sheet pans tightly, let them rise until doubled again, about half an hour. Preheat oven to 425°F
8. Once they're done rising, brush the tops with butter. Sprinkle some cheese, herbs, and garlic on top of each one, and bake for about 15 minutes, until a nice golden brown. Serve warm, and enjoy!