This bread was made for Nick Armstrong, actor, improviser, and founder of my happy place, Camp Improv Utopia. Nick is a great person, and for that he deserved a great bread (all of my "customers" get great breads, of course, this is just a really darn good one).
This is a slightly sweet, fluffy as heck, flavorful bread with walnuts in it to add some texture. When shopping, keep in mind that walnut oil comes in two varieties: cold-pressed, which is clear and lightly-flavored, or made from toasted walnuts, which is darker and more assertively flavored. Choose your variety based on your palate. I used the toasted variety, because I like walnuts a lot.
This bread is just delicious in every capacity, especially as avocado toast. The bread is soft and light and really lifts up the avocado. 🥑🥑🥑🥑/5
Honey Walnut Bread
(makes two large round loaves, takes about 4-4.5hrs)
Sponge:
• 2T active dry yeast
• 1/4c warm water
• 274g bread flour
• 3T honey
• 2c whole milk (at room temp)
Dough:
• 1.5c shelled walnuts
• .5c walnut oil
• 18g salt
• 411g bread flour

1. Gather your ingredients. Flour, water, salt, yeast, as always. This bread also includes milk to soften the crumb, and walnut oil and honey for flavor.
2. In a large bowl, prepare the sponge: Whisk together yeast, water, 274g of flour, honey, and milk. Beat hard until smooth and creamy, about 1 minute. Cover with plastic wrap or a damp towel and let rest at room temperature until bubbly and foamy and happy, about 1 hour.
3. Meanwhile, preheat the oven to 350° and chop the walnuts. Spread them evenly on a baking sheet and bake them for about 3 minutes until lightly toasted. Roll that beautiful nut footage.

4. Once the sponge is all bubbly after about an hour, add in the oil, salt, and about 1 cup of the remaining flour. Stir with a wooden spoon to combine. Add the walnuts and the remaining flour, .5 cup at a time, until a soft shaggy dough is formed.
5. Turn the dough out and gently knead until smooth and springy, about 4 minutes. You can add a little bit of flour as needed to prevent sticking, but avoid adding a lot, or you'll lose the fluffiness in the final product. If any walnuts fall out, just jam 'em back in there. There can be no escape from your bread. The walnuts will be consumed. This dough should be moist and soft but keep its shape well.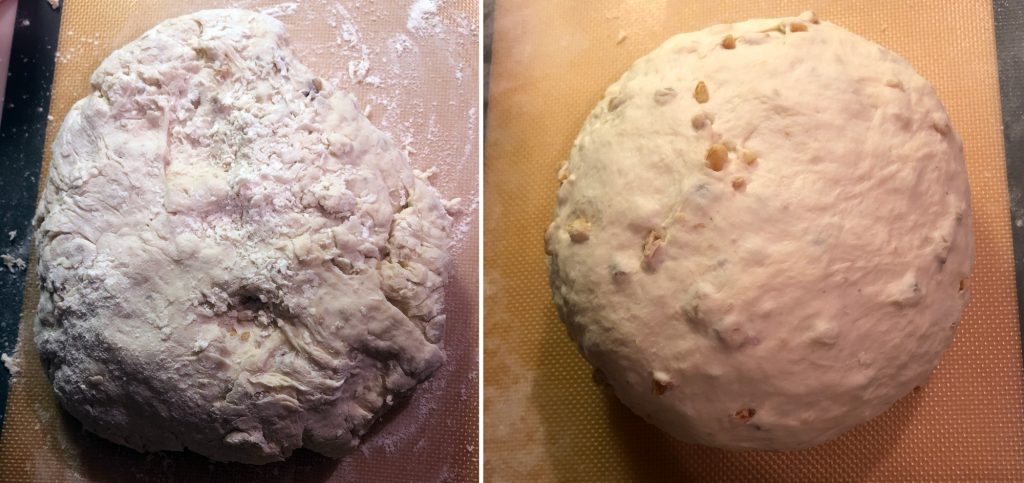 6. Use some of the walnut oil to grease a large bowl. Drop the dough in there, turn once to coat, then cover with plastic wrap or a damp towel. Let rise until doubled, about 1.5-2 hours.
7. Gently deflate the dough. Turn it out onto a lightly floured surface and divide. Shape into round loaves and place them into well-floured proofing baskets if you have them. If not, you can use a large bowl or just let them rise on a greased baking sheet. Cover loosely with plastic wrap or a damp towel and let rise until doubled, about 45 minutes.
8. Twenty minutes before baking, preheat the oven to 375°. If you let the shaped loaves rise in a proofing basket or bowl, put a cast iron or ceramic baking vessel in the oven while it preheats. Once the loaves are done rising, carefully remove the lid from the baking vessel, turn the loaf out of its proofing basket and drop it into the vessel, then slash one long line across the top and put the lid back on. If you let them rise on a baking sheet, just put them in the oven, baking sheet and all. Bake them for 35-40 minutes or until evenly golden brown and sounds hollow when tapped on the bottom. Let cool completely before slicing and enjoy!