This time, I made soft pretzels for NO ONE BUT ME (and also my roomies). I know I have a backlog and all but you're all getting free homemade bread so you'll get it when I get around to it, and no complaining. Sometimes I gotta make something for me.
Everyone knows soft pretzels. They're crisp on the outside and chewy on the inside, they have salt on 'em, and you can dip 'em in cheese. That's, like, the four things I look for in any food.
I…did not make avocado toast with these. They're pretzels. But if you make them in pretzel bun form, you probably could. I bet it would be tasty. Estimated 🥑🥑🥑/5
Soft Pretzels
(makes eight medium-sized pretzels, takes about 1.5-2hrs)
1½ c warm (110°-115°) water
1T sugar
2¼ t active dry yeast
2 t kosher salt
624 g AP flour
2 oz unsalted butter, melted
Vegetable oil for greasing the bowl
10 c water
⅔ c baking soda
1 egg yolk
Pretzel salt or coarse kosher salt

1. Gather your ingredients. Flour, water, salt, yeast, as always. Pretzels are still bread, after all. The pretzeliness of them comes from the boiling in the baking soda, so the dough itself is pretty basic.
2. Mix the water, salt, and sugar and give it a stir to dissolve. Sprinkle the yeast overtop and give it a swirl to mix it up. Let it sit five to ten minutes until it's foamy.
3. In a stand mixer fitted with the dough hook, mix on low until incorporated, then kick it up to medium for four to five minutes until a smooth, soft dough forms and pulls away from the sides of the bowl. If you don't have a stand mixer, mix it in a bowl with a wooden spoon, then turn out onto a lightly floured surface and knead by hand.
4. Oil a bowl, place the dough in it, turn it once to coat, then cover with plastic wrap or a damp towel and put it in a warm place to rise for 50-55 minutes, until doubled.
5. Once the dough is done rising, set the oven to preheating at 450°. Mix the baking soda with the 10c water and bring it to a boil in a wide pot. Mix the egg yolk with a tablespoon of water and beat it. Just beat it. Lastly, toss some parchment paper on baking sheets and grease them well.
6. Turn the dough out onto a clean work surface. Divide into eight equal pieces, roll each piece into a ~2′ long and form into a pretzel shape.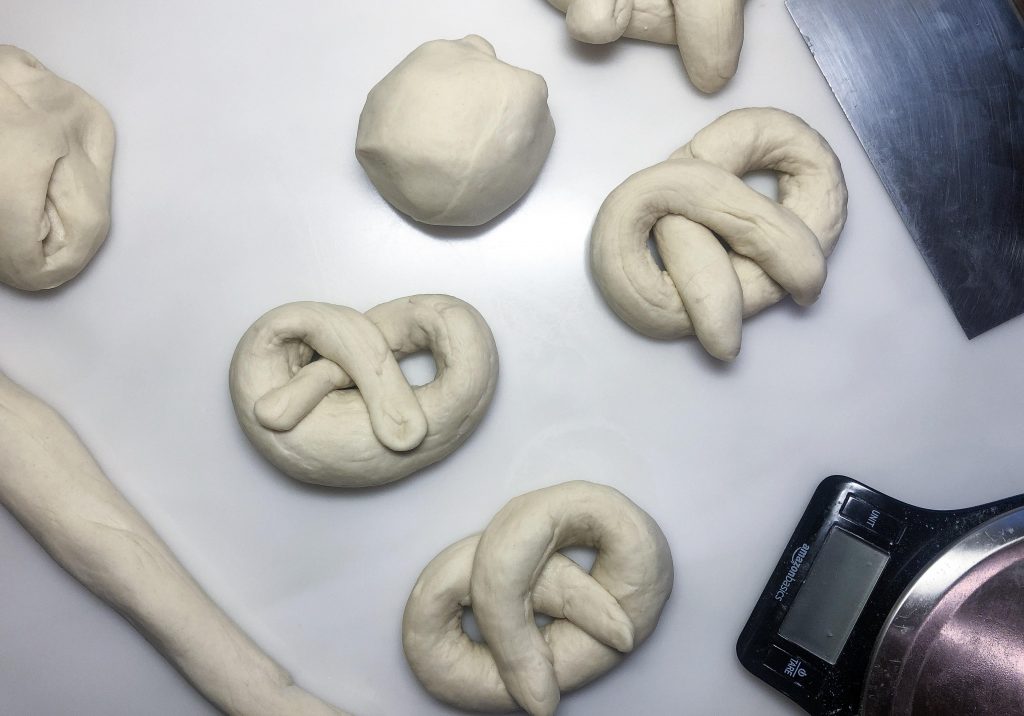 7. Boil each pretzel for 30s, flip it over and let it go for another 30s. Take it out of the water with a slotted spoon, place it onto the baking sheet. Brush with the egg wash and sprinkle with the salt.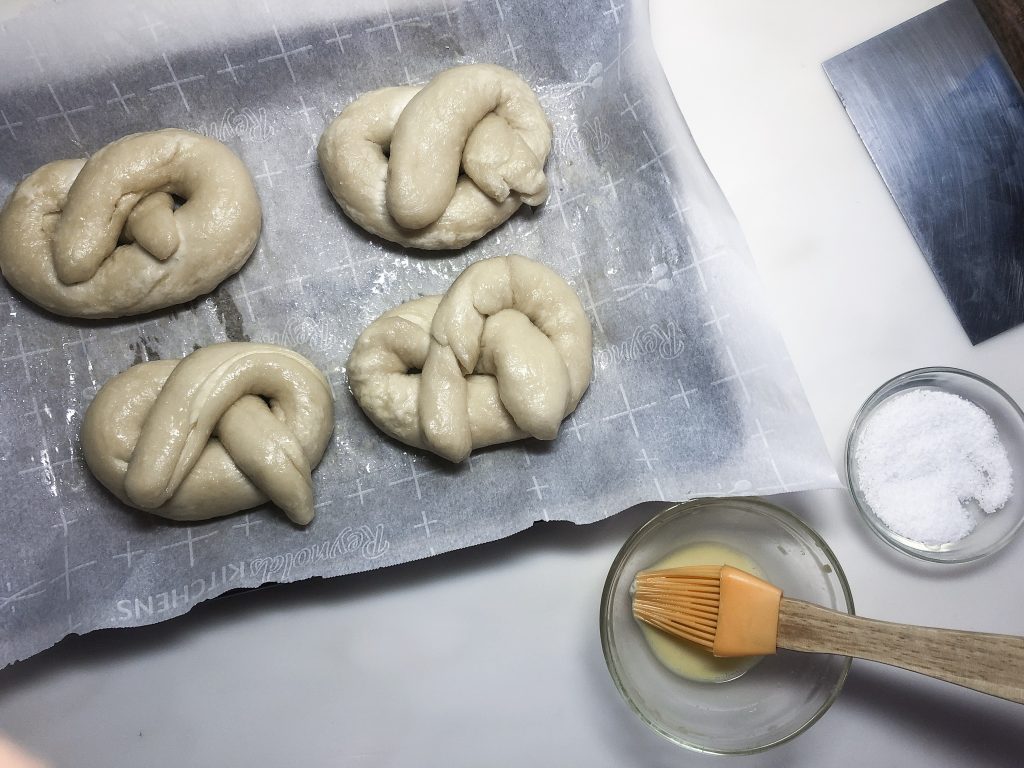 8. Once they're all boiled, brushed, and salted, bake for 12-14 minutes, turning halfway through to bake evenly, until a dark, pretzel brown. Let cool five minutes and enjoy!